Ulleungdo (also called Ulleungdo Island; 울릉도in Korean) is a remote but absolutely stunning island far off the east coast of South Korea.
This island's base is a stratovolcano that gives Ulleungdo the distinctive steep cliffs that ring the island. The coastal road that skirts the edge of Ulleungdo gives amazing views of these breathtaking cliffs.
Honestly, there is no place quite like it in Korea, not even Jeju Island. And yet, Ulleungdo is pretty much unknown outside of South Korea.
Ulleungdo gets some tourists, but not a ton, especially compared to other islands in Korea. Each year, Ulleungdo gets 300,000 to 400,000 visitors, while Korea's wildly popular island destination Jeju had 15 million visitors in 2019.
This post is your introductory Ulleungdo travel guide, from how to get to Ulleungdo and how to get around to things to do on Ulleungdo.
Ulleungdo is one of my favorite places that I've visited in South Korea. Unfortunately, information on this destination is definitely more limited. While my trip to Ulleungdo was circa 2017, I have done research to get more updated information on the island.
The major change to the island since then is the completion of the coastal road. Sections of it were still under construction when I visited, though you could visit the majority of Ulleungdo via this road.
Of course, some businesses might have closed in the wake of the pandemic, changing the human landscape of Ulleungdo. Presumably the natural landscape is much the same. Just make sure to check out other Ulleungdo guides from more recent trips.
While Ulleungdo is Korea's ninth largest island, it has a population of less than 9,000 residents.
Ulleungdo has an area of 28.13 miles squared/72.86 kilometers squared, and is 5.9 miles/9.5 kilometers long and 6.2 miles/10 kilometers wide.
Collectively, Ulleungdo is made up of 43 islands and islets, 3 inhabited and 40 uninhabited.
Ulleungdo's primary town is Dodong (도동), which has a port. There is also Jeodong (저동), which also has a port.
Its major industries include tourism and fishing, especially squid. If you visit Ulleungdo, you will see plenty of squid drying around the island and squid-related dishes and products.
Squid drying outside; a boat outfitted with lights to catch squids
Ulleungdo is also significant for its proximity to Dokdo, a group of two small islands and numerous rocks about 54 miles/87 kilometers from Ulleungdo. This area is disputed territory between South Korea and Japan. Dokdo is the Korean name for it, while Takeshima is the Japanese name for it, and in English it's sometimes known as the Liancourt Rocks.
Ulleungdo isn't impossible to get to, but it is pretty remote. While they're currently building an airport on the island that's expected to be finished in 2025, the only way to get there is by ferry.
You can catch a ferry to Ulleungdo from four ports in South Korea: Gangneung in the north, Mukho in Donghae in the north, Hupo in the middle of the east coast, and Pohang in the south.
The easiest and fastest way to get to Ulleungdo from Seoul is to take an intercity bus or the KTX to Gangneung, and then take a ferry from there.
Do note that the number of ferries each day and month varies, especially between high and low season. The daily ferries I talk about below are based on numbers during the spring and summer seasons.
Ferries from Gangneung to Ulleungdo
Ferries between Gangneung Anmok Terminal and Jeodong Port (Korean-only site) on Ulleungdo usually go just once a day, with two ferries certain days. A standard one-way ticket costs 61,000 won (~$45 USD).
It's about 110 miles/178 kilometers between the ports, and the journey takes around 3 hours.
Ferries from Mukho to Ulleungdo
Ferries between Mukho and Dodong Port (Korean-only site) typically run once a day and twice a day on Sundays. A standard one-way ticket costs 60,000 (~$44 USD).
It's approximately 100 miles/161 kilometers between the ports, and the journey takes around 2 hours and 40 minutes.
Ferries from Hupo to Ulleungdo
Ferries between Hupo and Jeodong Port generally run once a day and then twice a day on Sundays. A standard one-way ticket costs around 60,000 won (~$44 USD). It's approximately 99 miles/159 kilometers between the ports, and the journey takes around 2.5 hours.
Ferries from Pohang to Ulleungdo
Ferries between Pohang and Dodong Port (Korean-only site) usually run once a day. A standard one-way ticket costs 69,500 won (~$51 USD).
It's 135 miles/217 kilometers between the ports, and the journey takes around 3.5 hours.
To get around Ulleungdo, you have two main options: by car or by bus.
You can rent a car on Ulleungdo, or bring your own via certain ferries. You can also catch a ride with taxis. The base taxi fare is 3,000 won (~$2.25 USD).
You can also take a 4-5 hour tour around the island for 120,000 won per vehicle (~$89 USD). This course generally goes through Sadong, Namyang, Guam, Taeha, Hyeonpo, Cheonbu, Chusan, Nari Basin, and Dodong.
There is also a public bus system on Ulleungdo. One trip on the bus will cost you about 1,000 won if you stay within the same eop or myeon, or 1,500 between areas. Going around Bongrae Falls also costs 1,500 won.
I got around Ulleungdo by rental car and it was very convenient.
Where to Stay on Ulleungdo
The two main areas to stay in Ulleungdo are the towns of Dodong and Jeodong. As Dodong is bigger, it has more options for accommodation and food.
Because of this, it can be easier/more convenient to stay in Dodong, especially if your ferry goes in and out of Dodong Port. If you're arriving at and leaving from Jeodong, Jeodong can be the better option for where to stay on Ulleungdo.
Dodong Port by day and night
But honestly, it doesn't make a huge difference in the end. Dodong and Jeodong are located pretty close to each other – they're about a 10-15 minute drive apart (roughly 1.9 miles/3 kilometers).
Best Things to Do on Ulleungdo
There are plenty of cool things to do on Ulleungdo. When planning your activities, just make sure to take into account how long it will take you to your various destinations, especially if you'll be traveling by bus.
1. Ride around the coastal road
Pretty much the best thing to do on Ulleungdo is seeing the sights along the coastal road. The cliffs and sea make for impressive scenery, quite unlike anywhere else in South Korea.
If you're traveling around Ulleungdo via car, this is very easy. Just follow the coastal road and stop at whatever views call to you (safely, where there are places to park and stop off, of course).
Sights around the coastal road
Some famous points along the coastal road include Candlestick Rock (Chotdaeam/Chotdae Bawi;촛대암/촛대바위), Elephant Rock (Gongam; 공암), and Turtle Rock (Geobuk Bawi; 거북바위).
2. Stroll along the Haengnam Coastal Walking Path
The Haengnam Coastal Walking Path (행남 해안산책로) is a lovely walkway that goes from Dodong Port area to the village of Haengnam. The path winds along the waters of Ulleungdo, even snaking through some caves for more impressive views.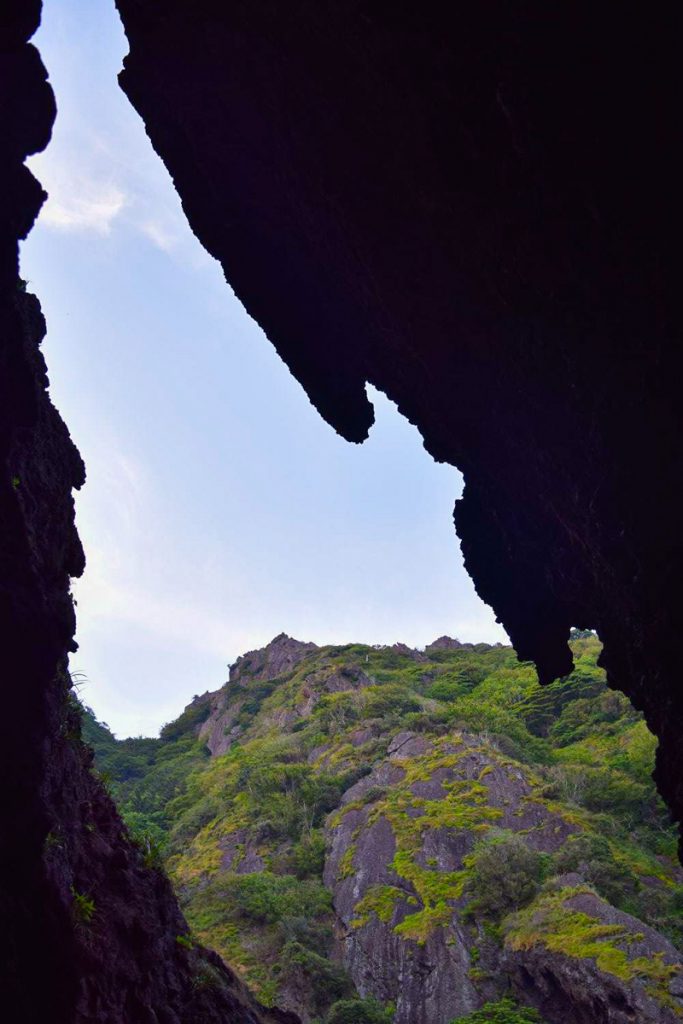 Views along the Haengnam Coastal Walking Path
As you can see from the pictures above, there are some spots along the path with stairs. So just be aware of those if you have difficulty going up and down stairs.
3. Hike up Seonginbong Mountain
Seonginbong (성인봉) is the highest peak of Ulleungdo and also an inactive volcano. This 3,228 foot-/984 meter-tall peak sits in the center of the island.
The foot of Seonginbong is covered with a cool primeval forest that houses some of the rare plants found on Ulleungdo.
The Ulleungdo website has a few suggested hiking courses involving Seonginbong, all of which start in Dodong. The recommended courses are 6-10 hours long.
4. Admire the scenery at Nari Basin
Nari Basin (나리분지) is the only flatland of the Ulleungdo, in the north central part of the island. Nari Basin is actually a caldera that formed as a result of volcanic activity around Seonginbong. You can easily get to the Nari Basin area by car and bus, as there are roads going directly there. It offers some lovely views of the mountains that surround the caldera, as well as the farmland there. And if you don't plan on going up Seonginbong, you could still visit Nari Basin to get a taste of the primeval forest with a bit of a walk.
Nari Basin's mountains and farmland
The forest near Nari Basin
Nari Basin can definitely be worth a stop if you're going nearby!
If you want to do something more unique, take a sightseeing tour to Dokdo.
The cruises will go around the islands, and if the weather is good, you can get off the boat and spend about a half hour on Dongdo, the east island. However, when I went, the water was too rough, so we only sailed around the island.
Some shots of Dokdo from the boat
Some people feeding the seagulls
Boat tours to Dokdo last around 3.5 hours. The journey over to Dokdo takes about 1.5 hours one way, with about a half hour on or around the islands.
Dokdo cruise tickets start at 60,000 won (~$44 USD).
Make sure to bring your ID with you in case they check it before you board the boat.
Fishing is one of Ulleungdo's biggest industries – it is an island after all, and Koreans love seafood. So if you're a seafood lover too, Ulleungdo will be great for you.
In particular, Ulleungdo is famous for its squid and squid dishes. In addition, Dokdo shrimp, conches, and barnacles are also popular Ulleungdo offerings.
Seafood restaurants right by the water
A quick primer on some Korean seafood vocabulary:

Seafood – 해물
Fish (for eating) – 생선
Squid – 오징어
Octopus – 문어
Shrimp – 새우
Mussel – 홍합
Barnacle – 따개비
Oyster – 굴
Conch – 소라
Raw fish/seafood – 회
Lobster – 바닷가재/로브스터
Crab – 게
Seafood – 해물
Fish (for eating) – 생선
Squid – 오징어
Octopus – 문어
Shrimp – 새우
Mussel – 홍합
Barnacle – 따개비
Oyster – 굴
Conch – 소라
Raw fish/seafood – 회
Lobster – 바닷가재/로브스터
Crab – 게
If you're not big on seafood, there will be things for you to eat, but they will be fewer. And if you have dietary restrictions beyond no seafood (like no meat), I would highly, highly recommend you bring meals and snacks with you.
7. Catch a sunrise/sunset
Ulleungdo offers visitors some spectacular sunsets thanks to its striking cliffs, mountains, and forests. For example:
A sunset over the waters of Ulleungdo
There are even a few specific spots specifically for sunrise and sunset viewing, like the Naesujeon Sunrise Observatory (내수전 일출전망대), Namseo Sunset Observatory (남서 일몰전망대), and Cheonbu Sunset Observatory (천부 일몰전망대).
Depending on the time of year you visit Ulleungdo, it might be too cold to swim. And some areas might have rough waters that prevent any swimming or water activities. But there are plenty of water activities you can enjoy around Ulleungdo, including kayaking, diving, snorkeling, and water inflatables.
Tips for Ulleungdo Travel
A note about the Ulleungdo ferries. The waters between Ulleungdo and the Korean peninsula are rough. This means two things. First, your ferry may be canceled due to rough waters. You could show up to take your ferry and be turned away because it's unsafe for the ferry to go out.
This actually happened to me on my way back to Seoul. We turned up, no ferry that day. We had to stay another day on the island (and I had to tell work that I wouldn't be coming in on that Monday). So leave some wiggle room in your plans in case that happens to you, because it could.
Second, I saw plenty of people running to the restroom to throw up on both ferries because the waters were throwing us around that much. So if you get seasick, prepare whatever medicine you need to ease that in advance.
In general, most everything on Ulleungdo will be Korean language only. This includes people's speaking ability, menus, and signs. This also includes your options for booking ferry tickets, accommodation, and rental cars, whether online or in person.
This wasn't really an issue for me, as I traveled to Ulleungdo with a native Korean. I can also read Korean and could speak some small amount of it when I went.
There are also limited restaurants and supermarkets. Obviously, they exist, but they'll be smaller and have a more finite range of options. And the restaurants will offer mostly seafood, as Ulleungdo is an island that specializes in fishing.
So it would be wise to pack some food to take with you, especially if a mostly Korean and seafood menu is not your jam and/or you have dietary restrictions.
Any good Ulleungdo travel guide needs lots of photos to show off the beauty of this island. So here are some more:
Stairs up to a sunset observatory
Along the Haengnam Coastal Walking Path
Is Ulleungdo worth a visit? Absolutely, if you have the time to get there. It's one of the most unique places in South Korea that I have visited, and also one of my favorite places I've visited in Korea. The scenery of Ulleungdo is so gorgeous. And it's not so nearly touristy as some of the other islands around South Korea. It can just be a bit tricky to get there and get around for visitors who don't speak any Korean. It is by no means impossible, but it might take a bit more prep and research beforehand, and more use of Papago to translate while there. If you're considering a trip there, hopefully this Ulleungdo travel guide can be a good jumping-off point for planning your trip.